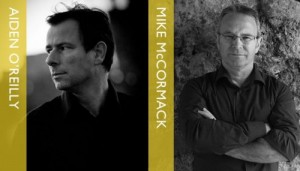 Mike McCormack and myself are teaming up for a mini-tour of London, with two dates signed up at bookshops.
I'm immensely grateful to Anthony Cartwright for playing a key role in instigating the readings. His own fourth novel, Iron Towns, came out in May.
Anthony will be discussing the books with us on the nights:
Mike McCormack is an award-winning novelist and short story writer from Mayo. His previous work includes Getting it in the Head (1995), Notes from a Coma (2005), which was shortlisted for the Irish Book of the Year Award, and Forensic Songs (2012). In 1996 he was awarded the Rooney Prize for Irish Literature and in 2007 he was awarded a Civitella Ranieri Fellowship.
His latest novel Solar Bones came out recently.
Anthony Cartwright has worked in factories, meatpacking plants, pubs and warehouses and with London Underground. His debut novel, The Afterglow won much acclaim – and a Betty Trask Award in 2004. His second novel, Heartland, was published by Tindal Street in May 2009 and praised by Jonathan Coe, David Peace, Catherine O'Flynn and DJ Taylor amongst many others. It was shortlisted for the Commonwealth Writers Prize, and was a Book at Bedtime on BBC Radio 4. How I Killed Margaret Thatcher, a bitter-sweet comic novel that captures the intensity of early 1980s Britain through the eyes of an unusual 9 year old Black Country boy, was published in 2012. His latest novel is Iron Towns.
I owe an immense debt of gratitude to Anthony Cartwright for taking an interest in the book and proposing the readings to bookshops he knows. I don't know Anthony personally and have never met him, so it all came as a great surprise to receive such a boost out of the blue. I hope to equalise the debt – and I don't mean by endless FB postings recommending Anthony's books.
I hope one day to pass on the goodwill and be able to offer a debut writer whose book I have admired (perhaps one that hasn't a big PR campaign behind it), an unexpected helping hand.