To Be a Machine
Mark O'Connell
Granta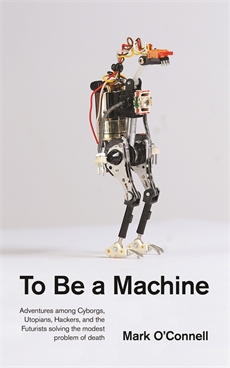 A personal journey of encounters with, and life among various 'transhumanists' – those who believe that humankind urgently needs to use technology to advance beyond its biological nature, perhaps by extending lifespan indefinitely so we become immortal, or by uploading our minds to become digital entities, or by enhancing our bodies to become cyborgs, or by fusing with artificial intelligence. Those who see 'biological nature' as a limitation, as something to overcome.
Read more
It's an intellectual journey of Mark on his adventures getting to know some of the key figures and their ideas. The journey has its geographical substratum: you feel like plotting out the various flights and road trips. He has put in a lot of mileage to write this book, a lot of beers drunk, and breakfasts eaten too as he stays for an extended visit several times.
In fact, when I think back there isn't a single sentence where he references an email exchange. Mark seems to have sworn off digital communication – he wants to meet them in the flesh.
What's intriguing about this account is that the authorial tone falters in places. There's a mainstream common-sense tone that continually reasserts itself. In this world-view, the various tribes of transhumanists are viewed with a sardonic wit. We smile with the author at their foibles or plain weirdness. We meet Max More who runs a cryopreservation facility where your dead body is frozen so it can be reanimated when technology has advanced to the point of scanning and uploading brains. Max More was born Max O'Connor, but announced in a fanzine many years ago: "I've changed my name to Max More in order to remove the cultural links to Ireland (which connotes backwardness rather than future-orientation.)"
But at certain points the author confesses his anxieties about what the future may hold for us, and his more existential fears: of death, and of a lack of meaning to life. These fears, which are traditionally the preserve of religion, are the driving energy behind many who turn to transhumanism. Mark astutely always tracks the childhood and formative years of his subjects, he wants to hear their stories of conversion and conviction.
And to be honest, the parts where we see these West coast enthusiasts at their most bearded geekish fanatical are the most enjoyable of the book. It's a good feeling to feel grounded in your own commonsense while reading about guys who cut into their own flesh to implant electronic devices the size of a cigarette pack. Or the anti-deathist who confesses he's really looking forward to the future because of the sexbots.
These sojourns with the fanatical form only one facet of the book. Other players he meets up with are more formidable – either because of their respected scientific research, or their immense wealth, or their political influence. Randal Koene the neuroscientist is working on the problem of extracting the process of mind from the flesh of the brain: "As a PhD student in computational neuroscience at McGill University in Montreal, Randal was initially cautious about revealing the underlying motivation for his studies for fear of being taken for a fantasist or an eccentric."
There are wealthy individuals willing to give his institution the odd million here and there. There are strong ties between transhumanism and the west coast milieu of tech entrepreneurs – and at key points with the military. A key advocate of transhumanism, and one of the most extreme exponents, Ray Kurzweil, was hired by Google to set up a Singularity University training center for corporate executives. Billionaire Peter Thiel (co-founder of PayPal) is involved in providing venture capital to several tech companies with transhumanist aspects to their agenda. The wave of the future will emerge from the work these guys are doing.
Sometimes when reading this part of the book I had to backtrack, check credentials, to make sure that I wasn't reading speculation from basement dwellers, but research proposals from cutting-edge scientists. These scientists confide their lofty ambitions to O'Connell, whereas with peer review panels I assume they would speak more guardedly. The challenge of figuring out how the brain works sounds thoroughly futuristic, but when the brain in question is that of a roundworm with 302 neurons, then it becomes a feasible scientific project. Just don't tell the academic committee your ultimate goal is to seek immortality.
Following O'Connell's adventures among the tech visionaries, punks, and fanatics is an immersive reading experience, and a stepping-off path for those who want to discern the wave of the future. It's sharply intelligent and erudite – referring easily to essays of Descartes, Karel Capek, ancient Greek philosophers, Gnosticism, and an obscure essay from Heinrich von Kleist. He's not trying to assess the rigour of the scientific thinking: he's rather looking at the motivations and often unexamined beliefs of the key players – beliefs which O'Connell demonstrates have surprising forebears through history:
"Beneath the talk of future technologies, I could hear the murmur of ancient ideas. We were talking about the transmigration of souls, eternal return, reincarnation. Nothing is ever new. Nothing ever truly dies, but is reborn in a new form, a new language, a new substrate."
The conversations with Randal are a high point of the book, and O'Connell here proves to be no Sunday paper columnist, but a deep thinker himself. "In the weeks and months after I returned from San Francisco, I thought obsessively about the idea of whole brain emulation." This is evidently not a rhetorical flourish. He concludes this particular chapter: "I never loved my wife and our little boy more, I realized, than when I thought of them as mammals. I dragged myself, my animal body, out of bed to join them."
I don't know, I don't know if this is the truth or if it is a perspective from a diminished and beaten-down concept of what it is to be human.
For me the book tied together a number of articles and news items that have attracted my attention in recent years. Hawking's warnings of the dangers of AI, similar warnings from Peter Thiel, Bill Gates and back in the year 2000 from Bill Joy, Google's development of Deepmind, recurring BBC articles with headlines that sound like straplines from 50s sci-fi movies, news items reporting in matter-of-fact tones on how AI systems are taking over the running of hedge funds.
The book made me, momentarily at least, despair of what fiction can achieve. If I wrote a novel about a character who was initially a performance poet, then joined the Quakers, then became a militant atheist and later a transhumanist – well, fiction wouldn't be up to the task of depicting these transmutations. I find the real people in O'Connell's book much more fascinating than those in fiction. I think of that moment in the movie Sideways where Miles is revealed to the dinner table to be a novelist, and a relative insensitively remarks, "There are so many fascinating people that are real. Why read made-up things?" Just a few decades ago the characters and drama in this book was the stuff of sci-fi and speculative fiction.
"People just routinely give themselves too much credit," says Tim. It's my personal favourite quotation of the book.
Tim Cannon is the de facto leader of a small group of cyborgs – people who have augmented themselves with machine, even if only a sensor embedded under the skin. The general thrust of Tim's remark is that we are animals – meat machines – who like to big themselves up and throw around grandiose concepts of free will and creativity. I picture this sentence as the centre of a web of associations to scraps of philosophy, fiction, and real people I have known. It's a life-stance that I keep coming across. "You make too much of things." I don't see it as necessarily a perspective from a negative and cynical personality. It can grow out of a need for rigour, a desire to cut through to the essentials and not trade in elusive concepts.
I reckon it's the most stimulating and involving popular book to touch on these issues since 'The Mind's I' edited by Hofstadter.