In his published works David Rose consistently pushes the boundaries of narrative. He seems dissatisfied with the linear drag of plot, its imposition on reality. His previous works include 'Vault: an anti-novel', and a vertiginous voyage through human lives in 'Meridian: A Day in the Life with Incidental Voices'. The subtitles already tell the reader not to expect a straight-forward plot.
It's good to be forewarned. Reading David Rose fiction can be a bit like seeing a piece of modern art when your whole sensibility is accustomed to viewing landscape paintings.
For this collection Rose took some unpublished stories he was dissatisfied with, finding them too conventional. So he 'self-vandalised' the text with authorial comments. He calls this his 'interventionist technique'. The result is generally a 'glimpse in the life' style of story, with little plot, overlain with boldface comments which disrupt the text.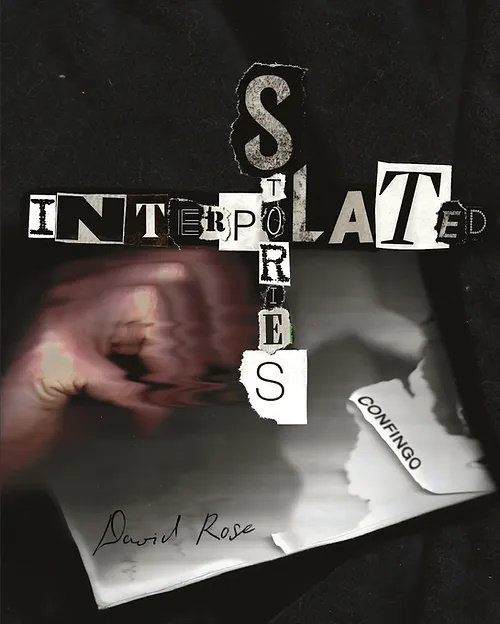 The first glimpse is of an art gallery guard, the second of a man in a post office frenetically observing those before him in the queue. (We quickly learn is about to rob the place.) The third features an entertainer at children's parties. The stories are written in short sentences, it's page-turning prose – nothing too obscure, no reaching for a dictionary. The interpolations are stumbling blocks, making the reader pause and reassess what's happening. I'd actually be perfectly happy reading the undisrupted story (i.e. ignoring the boldface comments as far as possible). It's fascinating to get such an intense focus on moments in mundane lives. The interpolations are like an added puzzle, stretching your brain in a different direction, not always illuminating but casting a different light. Sometimes the voice of the comments is the author in a different mood, sometimes they are pseudo-academic, and in one piece a ghostly presence.