A memory of a literary trip to London with Mike McCormack and Anthony Cartwright in 2017. A huge thanks to Anthony for instigating the idea, and for interviewing us both nights.
Mike & I read from our respective books Solar Bones and Greetings, Hero. Anthony himself has a new novel out: Iron Towns … "Once the furnace heart of industrial England, now the valley is home only to fading dreams."
So August 2nd we met up at fabled Bookseller Crow-on-the-Hill in Crystal Palace. "Twee, kowtowing, conventional it ain't," it says on their website. More than a bookshop, Crow-on-the-Hill is an independent force on the books scene – they also hold writing classes there. Big thanks to Jonathan and staff there.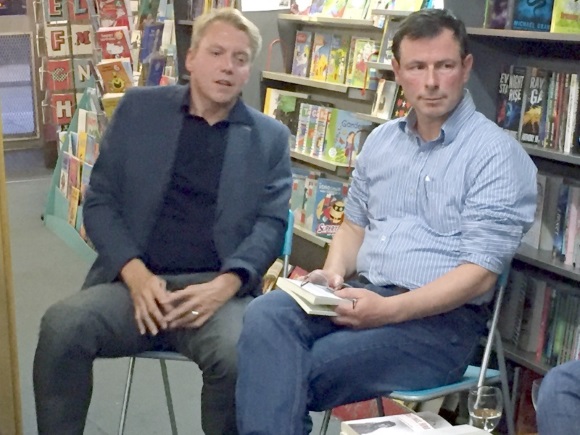 Anthony Cartwright on the left. None of us gave much thought to photographs, so this is the only shot from Crow … and unfortunately only Mike's knee is in it.
Next night the three of us descended on the Quaker Bookshop, Friends House, Euston road. Different crowd,  different conversation. McCormack sparked an animated discussion about the underappreciated role of engineers in shaping the world. There were also some words about the largely-forgotten tradition of Irish gothic fiction.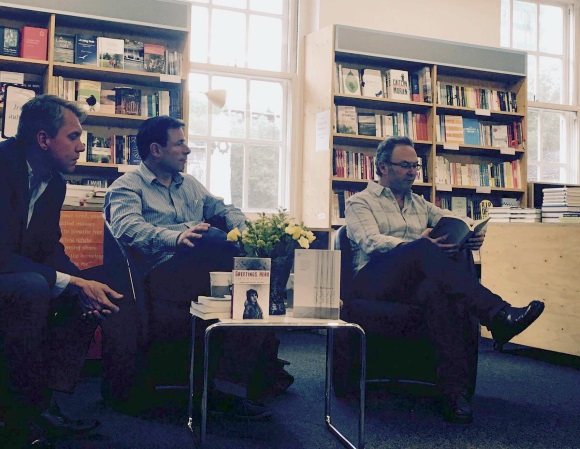 Mike McCormack reading at the Quaker bookshop.
Myself reading.
And the day after that, I headed up to Norwich for a pre-launch event of The End at UEA's Enterprise centre. Fifteen stories inspired or sparked off by fifteen of Nicolas Ruston's scratch paintings. This is The End my friends. And it comes with a black wax seal.
Brought out by Unthank Books who are a powerhouse of extraordinary fiction and bring out a semi-annual state-of-the-art of UK short fiction. They call it the Unthology series, and Unthology 8 came out recently.