Originally posted Aug 2011
My broken arm (see below) has held things up so I'm only getting round now to posting a few notes on the rehearsed reading of my new play at the Triskel. A rehearsed reading is normally a private affair for the theatre company, with maybe a few critical observers invited along. Triskel have taken the bold move of opening these readings to the public – for free. So if you're in Cork you should look up when the next one is on at the Triskel
In a rehearsed reading the actors have the script in their hands and perform the lines with a minimum of acting – the focus is on getting the emotion into the lines. But at this 'reading' the actors put a huge amount of acting into it. I spoke with some people afterwards and they said that after a while you don't even notice that they are constantly holding sheets of paper – just like you forget to notice the stage itself, the other people in the audience etc.
It went really well – so well I wouldn't like to say in case I sound silly. We had a full house (of 36) and the Q&A session afterwards took 45 minutes.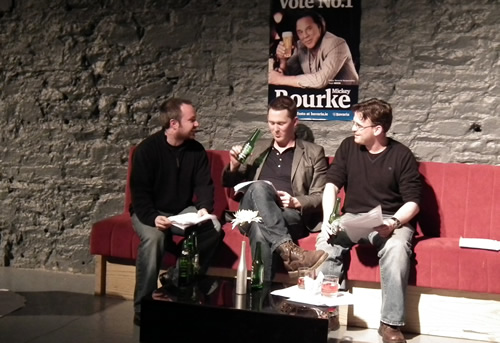 Left to right, Sean McNally, Shane Casey, Shane Falvey
A big thank you to the lads: Sean McNally for bringing life to Duncan, to Shane Casey for a memorable Fran, and to Shane Falvey for showing the various sides of Eugene. What was crucial for me was that they all liked the play and each developed a strong idea of how to act the role.
At one point I wondered if Shane Casey was the right man for the role, as I pictured his character with a bit of a beer belly and Casey is as thin as a rake. I mentioned this to him. Quick as a flash: "I can act a belly," and he demonstrated a thoroughly believeable belly. Sheer professionalism!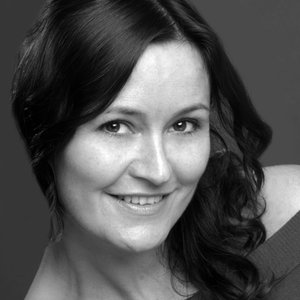 A special thanks to Paula McGlinchey – what I mean is, it was fantastic to see her play the character. She and director took what was only a suggestion of dance in the script and developed it into a a whole mini-scene with no dialogue. Making it twice as good a play with no effort on my part!
She has her own play Voices from the Cailleach coming up soon at the Engage Arts Festival in Bandon