This is a thoroughly enjoyable read and a bit of a suprise from Ashley Stokes. His short story collection Syllabus of Errors was allusive, elusive, spiked with flashes of dark insight into the nightmare of history.
I have strong memories of that book eight or nine years later. Complex stories that are worth reading several times – in other words I should go back and read it again.
But his new novel is a rambunctious adventure following a trio of cryptozoologists on the track of the North Surrey Gigantopithecus – the Surrey equivalent of the yeti.
"You've not experienced that thrill when suddenly, for a moment, you glimpse it between the trees – gigantic, proud, alive, part of us, the missing bit of us – "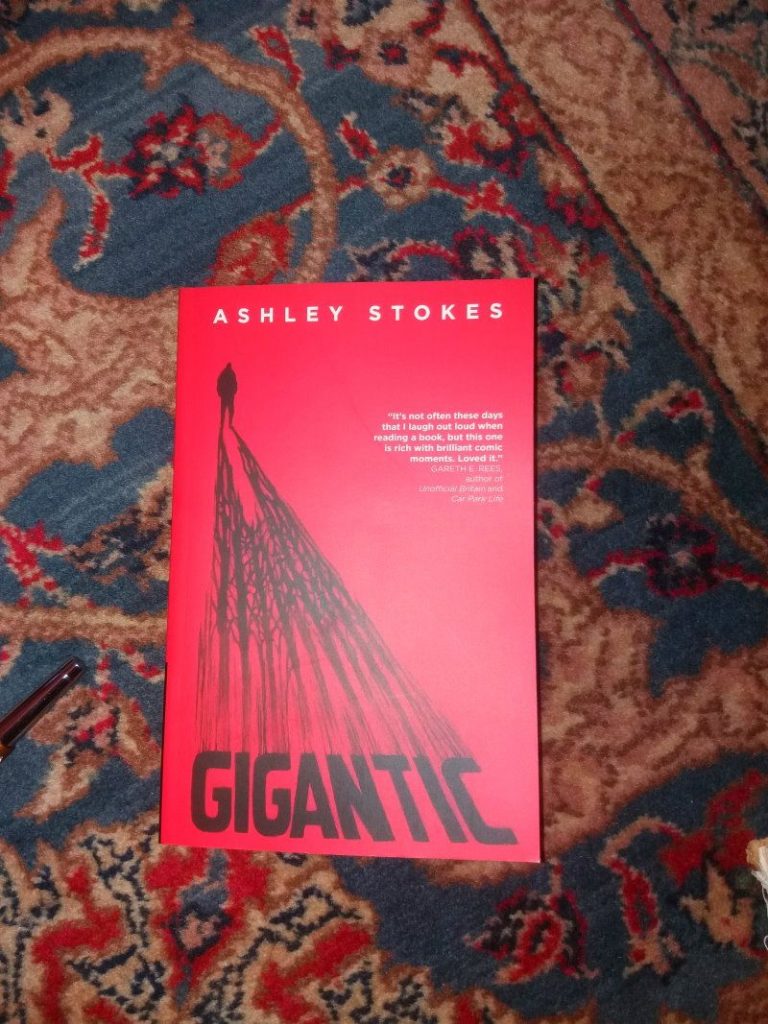 Kevin Stubbs holds down a job in IT by day, and at night he kits up with camcorders, thermal imaging device and sample jars for a session of stake-out operations through the woods. The obsessive search for the beast has cost him dearly – his Ukranian wife has custody of their small son. The local wags chant "Monkey magic" when he goes into the boozer. But Kevin is on the brink of The Great Confirmation when the whole world will queue at his doorstep and his son will finally be proud of his old man.
The novel is full of laugh-out-loud moments – after a description of the Aleister Crowley-devotee fourth-dimension-probing third team member, Kevin relates in a deadpan tone: "This is one of the things about getting involved in the GIT. You meet people you wouldn't ordinarily meet …"
But the leader of this 3-person team – Maxine – is a complete and total skeptic! There's a thoroughly plausible backstory to this. And when you think of it, what fanatical skeptic wouldn't jump at the chance of being appointed head of a team of pseudo-scientists?
Despite this, the trio have a warm loyalty to each other. The novel is structured around the official reports written by Maxine (aka the Sci-borg) followed by Kevin's passionate extrapolations and background stories. Kevin Stubbs is a fascinating 'anorak' cynical/gullible character with lots of wry looks at suburbia. His exchanges with Max are hilarious – this cryptid-busting trio could easily be the premise for a long-running comedy series.
It's great fun to read of the traditions and lore of this tight-knit confraternity. They have their decades-old grainy footage of the beast, competing theories (is the creature paranormal or a primate), discussions about sensing equipment, and memories of the founding fathers of the movement. It can feel like a cross between an extremist political cell and a local hill-walker's group.
There is a hilarious incongruence between the dry notes by Maxine ("There was some delay in leaving the property due to a dispute about money and the witness's reservations about GIT Cryptozoologist Funnel") and the expansive and passionate accounts Kevin gives.
"You've not experienced that thrill when suddenly, for a moment, you glimpse it between the trees – gigantic, proud, alive, part of us, the missing bit of us – "
Clearly the Gigantopithecus is a proxy for that one last piece of magical mystery in life, that secret magic we still believe in. Stokes throws in a few associations with the lost forests of England – we feel a distant yearning for the impenetrable forest – Andreaswald, the dreaming forest of England – and the wild beasts that roam therein. We crave a few relict stands of trees that have escaped the concrete, the planning, the cultivation – I think of Hopkin's lines:
And all is seared with trade; bleared, smeared with toil; / And bears man's smudge, and shares man's smell;
The novel was also a bit of a nostalgia trip for me, as Stokes peppers the story with references to 1970's formative influences, including Arthur C. Clarke's Mysterious World, the UFO craze, Judge Dredd, role-playing games, and also that familiar small-town scene of the local wags at the bar passing sarcastic comments.
Great tale, ingeniously put together, builds up momentum to a thrilling ending.
Will A. Stokes stay with lick-your-thumb novels of suburban intrigue or will he go back to the challenge of divining the widening gyres of idiocy and extremism?