orig. posted Oct 2009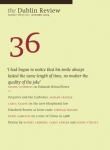 I have a piece in the latest issue of The Dublin Review. It was one of those occasional long stories that engage me fully. I get caught up in the characters and the story keeps demanding greater space for development rather than cutting. But as the finish comes into sight I get more depressed. There is nowhere to publish a story more than about 5,000 words long. The knowledge of my wasted effort gets me down.
In this case however the story escaped. Before submitting to the DR I emailed the editor, Brendan Barrington, and asked if he would even consider one that length. He said he would, and off it went.
This issue also has a prison story by Carlo Gébler and a gaelic pastiche by Robert Cremins. I haven't yet read all the non-fiction articles, but what caught my eye was Adrian Frazier's essay on Yeat's late play Purgatory. Oddly enough, I'd made an attempt to read that play some weeks before. It struck me then as being non-Irish, drawing from some tradition I was unaware of. I read it as an uncompromising study of those whose lives are cursed and who have moved beyond hope. Few such reports are returned from the world of despair.
Frazier points out that Yeats believed in such things as hauntings and spirit voices. The play, he writes, is not a gothic ghost-story or a modern version of a Noh play; it is realism.
But apart from this Frazier's essay mentions a late work (around 1938) by Yeats, On the Boiler. I have to get my hands on this. It seems to be a diatribe against the consequences of over-democratization as Yeats foresaw it. Modern society has proceeded in a diagrammatically opposite direction to every sentiment expressed here. Here are three quotes:
Most Irish people should not be taught to read or write.
Representative democracy has given Ireland to the incompetent.
The success of the Abbey Theatre has grown solely out of a single conviction of its founders – 'Not what you want, but what we want.'