Upcoming events:

Interviews:
Greetings, Hero definitive inteview on the book with Joe Horgan for The Honest Ulsterman
Brought to Book Q&A for The Irish Times
Mel Ulm's legendary Q&A Session – a rite of passage for all Irish writers
Full interview for the Dublin arts magazine tn2
Some recent events:
August 2016 mini-reading-tour of London with Mike McCormack. A huge and heartfelt thanks to Anthony Cartwright for instigating the idea, and for interviewing us both nights.
Mike & I read from our respective books Solar Bones and Greetings, Hero. Anthony himself has a new novel Iron Towns … "Once the furnace heart of industrial England, now the valley is home only to fading dreams."
August 2nd: At the legendary Bookseller Crow-on-the-Hill in Crystal Palace. Big thanks to Jonathan there.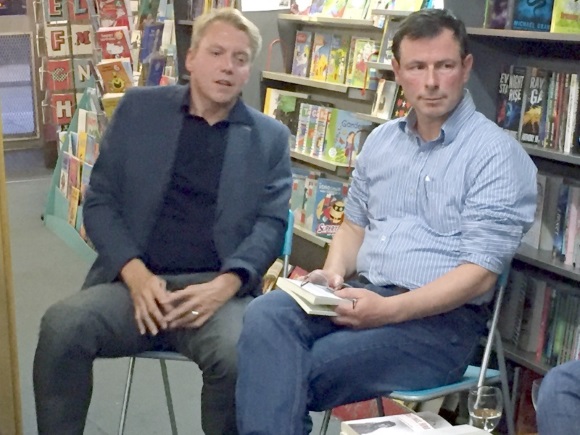 August 3rd: Quaker Bookshop, Friends House, Euston road.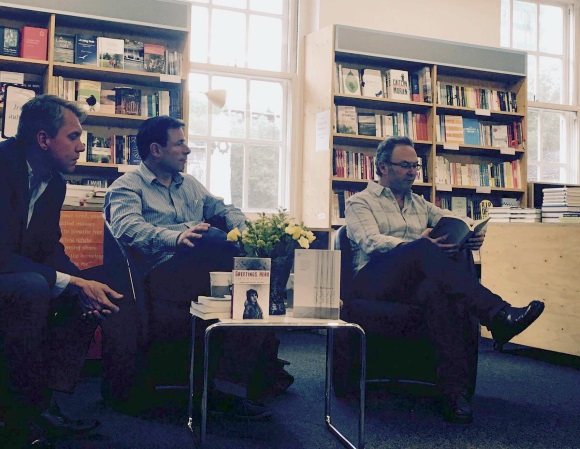 Mike McCormack reading at the Quaker bookshop.
West Cork Literary Festival 2016 July 19th
In conversation with Don O'Mahony at the wonderful Bantry Bookshop.
The Winding Stair Bookshop, at Ha'penny Bridge. Wed. 29th June
Aiden O'Reilly & Frankie Gaffney (Dublin Seven) in conversation with poet & writer Annemarie Ní Churreáin
Staccato, Toner's basement, Lower Baggot Street, Dublin 2. Wed. 24th Feb. Night of music and writers.
Over the Edge 7th annual Fiction Slam Oct 16th
Delighted to be judge and guest reader at this event.
Katedralskole Aalborg Oct 6th – 11th
Visiting writer to this historic school in Aalborg. Gave talks and workshops to over 200 students.
Cork International Short Story Festival Sept 24th, 4pm, Cork Central Library
Delighted to announce I've been invited to give a Reading + Q&A at the Cork International Short Story Festival, in a joint afternoon with writer Paul O'Reilly.
I've been at the festival 4 or 5 times, but this will be the first time behind the mike. Official programme should be out soon.
You are what you read Wed Aug 26th, DLR LexIcon
International Hopkins Festival Monday July 27th, Newbridge, 20: 30 FESTIVAL CLUB: O'Rourkes
Reading from my work as part of the 28th Gerard Manley Hopkins festival.
The Lestrygonian Sessions Wed July 22nd, Red Bank wine tavern, Duke Street, Dublin
May 13
Launching the Writers on Writers festival alongside Glen Patterson at the Linen Hall Library, Belfast.
April 22
Rob Doyle & Aiden O'Reilly in conversation with David Noone at Books Upstairs, Dublin
April 4
Reading at The House Presents
Nov 4, 2014
Dublin launch by Kevin Barry in Hodges Figgis
Videoed reading made at Kennys Bookshop & Art Gallery Galway