The Infinite Castle, a novel by Renaud Contini, 2022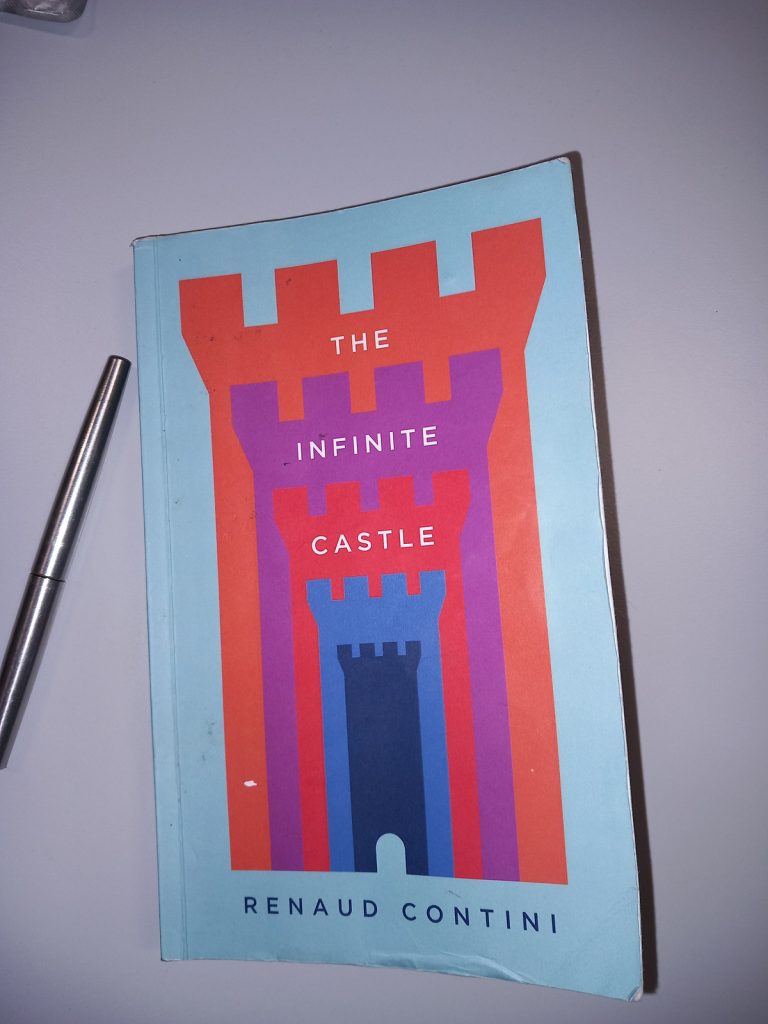 Renaud Contini is a young writer and philosopher from France who has lived in Dublin for several years. He kept (still keeps?) an online philosophical notebook (three actually), with extra sections of aphorisms and poems and translations. He has developed his own philosophy he calls 'Open Monism', and has posted several YouTube videos talking about it. It's a massive body of work and I'm not qualified to judge it. But he clearly enjoys working through it and is not currently worried about academic acceptance.
He has also written a book on the INFJ personality type (Myers Briggs), The Ecstatic Soul which has sold very very well – he showed me the Amazon sales backend. In any case, if you ever meet Renaud, you will conclude fairly quickly he's not someone inclined to craftiness and subterfuge.
If you feel like you have a great idea but fail to express it in language in a way that does justice to it, do not automatically suppose that the idea wasn't good. Create a new language first, to give the idea a chance. Then, you will know.
The Infinite Castle is his second published novel – self-published, like all his works.
"I have been condemned for a serious crime."
It gets off to a running start. A man (called Lynch as we later learn) is incarcerated in a glass cube apparently suspended above a city. His way of thinking has a strange logic to it. He readily accepts his fate, but rather than speculate about the obvious question of who may have abducted him, he reasons that he must have committed a major crime. He sets himself the task of reassembling his life from memory, to understand who he is and what this place is. There is conveniently a white laptop on the table.
"Will my memories be enough to patch up my soul?"
"If at times it seems like I'm not making sense, remember this: the goal is not to be intelligible by the yardstick of a rational mind, but to preserve the unity of my being."
The story has an impetus to it that is both narrative and logical: we went to know what happens next and we also want to understand the mystery. The stage is set for an alternation of chapters between the present moment in the glass prison and his past.
Frankly I love the premise. It's Black Mirror, it's Kafka, it's seventies sci-fi. It's also Sartre and maybe a few others I know little of.
Lynch recalls his job in some kind of educational admin role. He relates the tale of how he got the habit of opening the office windows to let in fresh air. He doesn't understand why he keeps doing this – he develops a theory that it is to open a space of freedom for himself. "The modern world doesn't hate wrong actions but strange ones." He soon gets invited for a chat with the staff counsellor.
It's wonderful stuff, weaving between our narrator's compulsive philosophising and his window-opening antics. Lynch actually likes his co-workers, he is considerate of them – he just thinks in a very very different way. The office scenes are not to be read as 'alienated man in a meaningless job'. They are more a demonstration and celebration of the vast gulf between thought and everyday actions – the huge whirling excess of thoughts we (or some) carry around in heads.
Then back to the glass cage again, where apparently it is always 4am. He discovers – with dream-like suddenness – that he is not alone, but shares the space with an androgynous stranger who claims to be his superego. This person, or entity, waits every night to read Lynch's diary entries. Lynch, as we mentioned, is writing his memories in a white laptop in order to understand who and where he is.
I cannot think offhand of any novel to compare, beyond muttering inanely 'Kafka'. It's like the cult film Brazil in being byzantine, exuberant, and zany. The mood, or rather mode, changes from realism to irreal, from philosophy to slapstick humour.
Things take an interesting twist – I was going to say surreal twist, but the novel started off surreal – when Lynch continues going in to the office building each day, skulking around on different floors, and gets the idea that he can work as a janitor, creating the position for himself as it were.
This secret mission of subverting the system is one of the highlights of the book. He discovers an under-the-stairs space he can make his office and sets about acquiring the skills he needs. And, as in all sections of the novel, there are odd philosophical forays: "I couldn't yet ally with humans, but what stopped me from enlisting objects? The world was mostly made up of objects: give them a coordinator and nothing could stop them."
These rococo introspections are often fascinating, but work best when they relate to the current events in the story and are not interminably free-wheeling. And yes, I'm sure it's possible to trace the origins, Sartre, Deleuze, etc, of these thoughts, but that wouldn't be relevant. They manifest themselves as obsessions, not as intellectual contemplation.
I really enjoyed the convoluted cogitations about sex and his musings about underwear. "all I can see is holes" etc. I've read my Sartre for Dummies – I can spot it's playing around with the idea of the Nothingness that allows Being to be perceived. It's hilarious and deadpan, taking the story on a side turn.
The novel begins to drag in the middle. It is a bit unbalanced – not in the mental sense, because of course it's all demented – but in the sense of the balance of introspective passages, narrative drive, and drama. There are some non-sequiturs an editor would have cut. At times there are too many mood and topic changes to follow: we lose track of the original clearly-stated aim and wonder where the story is going. Sometimes it's not not clear whether certain thoughts take place in the past or in the present incarcerated state. There are subplots – for example an encounter with a man who invites him to a mysterious elite club – which seem arbitrary. Maybe the irreal is something that best works with crystalline intensity.
I would honestly love to see this novel republished after a thorough editing from someone in tune with it. There is so much here that is fascinating and startlingly original.